National FIS Software : FIS Live-Timing
Jump to navigation
Jump to search
FIS Live-Timing
The FIS Live-Timing tab allows you send your race information to FIS in real-time. Races must be registered with FIS to do this and it takes some work and monitoring to make sure everything is happening smoothly. But, the end result on the FIS web site looks very professional. And, it can be done at the same time as using Live-Timing.com.
Registering Races
If you have an account, or create an account with FIS you may register and set up races yourself. If not it can be done for you by Split Second.

Registering Races yourself with FIS
You will need to have an account with FIS to do this. If you don't already have an account send an email to it@fisski.com requesting a login and password.
You'll login via the "Member Section" at the top of the FIS site (www.fis-ski.com). The take the link for "Live Races Registration".
Select "Alpine" from the drop down menu.
You then have access to set up your test race(s), or search and then add your event.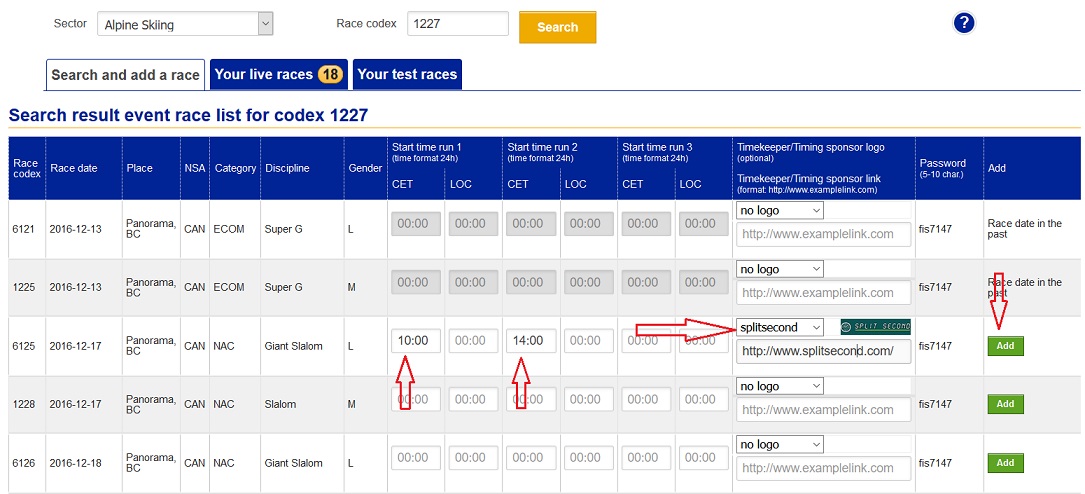 Note:
Search by any Codex in your series.
When adding include as much information as possible with start times. You can change these later if needed.
Please select Split Second from the drop down of timing solutions.
Once you have everything correct click "Add". It will move from the search list to the "Your live races" section.
At this point you're ready to go!
Having Split Second Register Races
If you don't want to get an account contact Split Second and your races will be registered for you. You will use Split Second's account via the software (the lower checkbox).
Once you hear back from Split Second that your races have been registered, you're all set!
Steps to Managing The Race
All the options are on the FIS Live-Timing tab of the software: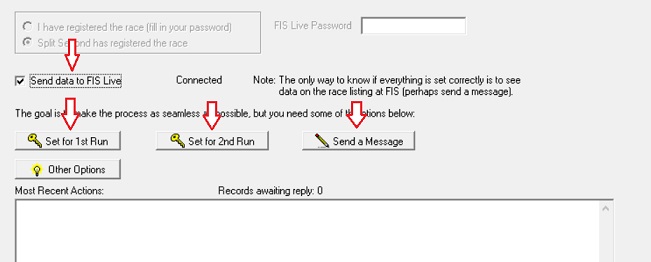 You MUST start by clicking on the box to "Send data to FIS Live". Once checked it will maintain a constant connection to FIS. If the connection is lost it will continually attempt to reestablish the connection.
Start by taking the option in the "Other Options" menu to clear all data (bottom option).
The key thing that MUST be done is get each run ready before that run starts. Once that's done everything should happen automatically.
There are a number of steps that need to be taken which are listed individually in the "Other Options" menu. But to simplify the process they're grouped along with instructions via the "Set for 1st Run" and "Set for 2nd Run" buttons.
Sometimes running this step doesn't get everything set correctly. (we currently don't know why but just do it again and it may work). The run MUST be set correctly and the start list loaded for that run as explained on that screen otherwise the data won't be dealt with properly. Look at that screen carefully.
Messages may be sent via the button on this screen or via the button on the timing screen. If sending from the timing screen messages will go to Live-Timing.com and FIS Live at the same time (from the timing screen be sure to check the box labeled "send message").
Caution: Be sure not to send data to FIS from system A and system B. This has been done by mistake and will result in some results being off slightly!
Practice/Test Race
With anything to do with Ski Racing practice is the best way to get comfortable. You may do this with the FIS Live interface via test races.
If you have your own account with FIS you may have 1 or more test races. See the details on your account under "Alpine Skiing" "Your test races". Simply set the codex and password accordingly and you can monitor the race via the link on the connection parameter ("i" in a circle) button.
If you don't have an account you may practice using Split Second's test race:
Although unlikely, be aware that someone else may be testing via the Split Second test race at the time. If it looks like that's the case please try again later rather than confuse things. As a courtesy to the next person please take the option from the "Other Options" menu to "Clear All Data" when finished testing.