National FIS Software : Alpine Combined
Jump to navigation
Jump to search
Managing Alpine Combined
When Alpine Combined is selected in the software the following additional box will become visible on the "Header" tab to manage the extra data needed: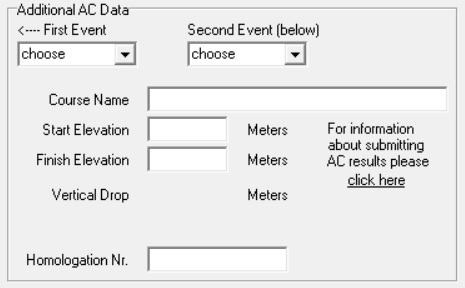 This will pull the needed data together to produce the results for the "combined" event.
But, if your race has a speed event first which is to be counted as a separate event the software does not currently have a simple way to submit that data (to FIS, USSA etc.).
So, the process is to:
At some point after the first (speed) run is complete save the file under a different name (Save As). This will be your file just to deal with the speed results.
Change the race type in that file to Downhill or Super-G.
Verify and set your other information including Header (Codex and anything else) / Officials / Run Data etc.
Dealing with ECOM events
FIS created a modification to the normal processing of Alpine Combined. If it's an "ECOM" event then the follow applies:
If speed is staged first, speed results are not generated until after SL run and anyone who does not complete the SL portion ends up as NPS2, DNS2, DNF2 or DSQ2
To deal with this, starting with software Ver 6.70 Rev 2, there is an option to set the race level to ECOM. If set to this you may assign a competitor's first run to be any of NPS2, DNS2, DNF2 or DSQ2. This may be set via the Edit Competitor screen. For example:


Also, when set to ECOM the Block Edit screen has the ability to set the first run result. This makes setting groups of competitors to these special settings much quicker.
The NPS2/DNS2/DNF2/DSQ2 grouping will come out on the printed speed result and be part of the transmittal.

Note 12/6/2016: If you find an issue with this process, please let Geoff know at Split Second as there is some uncertainty that this is being handled in exactly the right way. Thank you.